A Facebook Custom Audience is a segment of consumers defined by how they have interacted with your company.
The Facebook Custom Audience tool allows you to create a segment of consumers who are familiar with your company/brand, allowing you to advertise to them with Facebook Ads.
There are several types of Facebook Custom Audience options, allowing you to build a segment of consumers based on how they have interacted with your company. These include: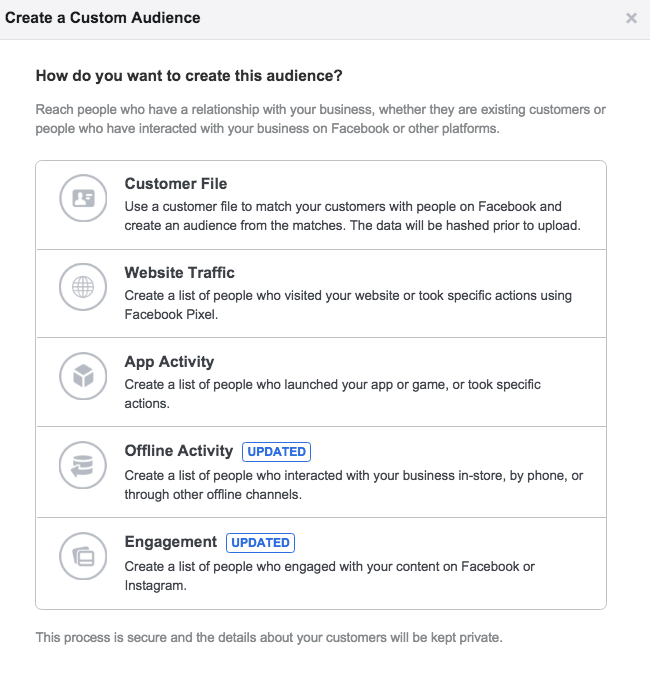 Customer or Lead File - Uploading a list of consumers to Facebook allows you to match their email, or other contact information to a specific Facebook profile. It is important to note that you should have permission from these individuals to advertise to.
Website Traffic - Facebook Custom Audiences allows you to indicate pages on your website that places a cookie on your website visitors browser. This cookie allows you to choose those individuals to be placed into a specific segment and are eligible to receive ads.
App Activity - This option allows you to create an advertising list from those individuals who interact with your Facebook game or app.
Offline Activity - Combining your POS (point of sale) or phone systems allows you to create a list of individuals who have interacted with your brand offline, such as purchasing a product in your store or calling you by phone.
Engagement - This option allows you to create a Facebook Custom Audience of individuals who engage with your content on the channel. Options include creating lists of people who watch a certain percentage of your videos, and even by how long in-between interactions with your content.